San Diego Wrestling is a not-for-profit sports club offering San Diego area wrestlers an affordable and fun environment to learn and practice amateur freestyle wrestling. Our current club fees schedule for the 2023-2024 wrestling season are as follows:

San Diego Wrestling Club Practice Participation Fee: $10.00 per practice. Due at the beginning of practice. Cash only, no cards are taken for practice fees.

In addition: Each wrestler MUST have a current USA Wrestling Card:
USA Wrestling Membership/USAW Card: $55.00 per season*(available on-line through USA Wrestling)

*San Diego Wrestling's season follows the same calendar as USA Wrestling. USAW's wrestling season begins September 1st and ends on August 31st. SDWC/USAW fees are not prorated.


Practice Participation Fee may also be paid in advance on a monthly basis.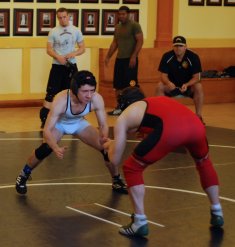 All members who will be wrestling on the mat must purchase a USAW card before their third practice - NO EXCEPTIONS!
Active wrestling members with a USAW card will receive full mat privileges, a bi-monthly subscription to USA Wrestler magazine, and secondary insurance provided by USA Wrestling.

Visit our JOIN US page for instructions on becoming a member and paying your
USAW dues.