San Diego Wrestling is open to anybody over the age of 18 with an interest in learning and practicing the sport of freestyle wrestling. This includes men and women of all skill levels irrespective of height, weight, race, age, sexual orientation or physical disability.

Wrestler requirements:
Be at least 18 years old per SDWC's charter with USA Wrestling

Have signed the club waiver form from our JOIN US page

Have purchased a 2023-2024 USAW card by second practice


Are in good physical shape and you make coaching staff aware of any chronic injuries or physical limitations.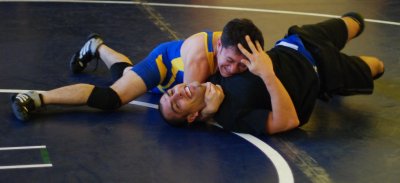 WRESTLING PRACTICES
Currently the San Diego Wrestling Club holds one practice per week. You'll find us on the mat on Thursdays from 7:00-8:30pm. For a full schedule of practices and SDWC events please visit our calendar page. All of our wrestling practices take place in Santee. Click the link at the top of the page for a map to our practice facility.
WRESTLING GEAR?

So you want to wrestle with the Bulldogs? You will need to invest in the following gear for the mat:
Wrestling shoes - mandatory

Kneepads - highly recommended

Earguards - highly recommended if you want to avoid cauliflower ear!

Singlet - mandatory for competition, recommended for practices. Red/Blue singlets may be required for most freestyle tournaments (Nothing with pockets should be worn for practices)


Mouthguard - recommended

Proper undergarments (briefs, sport briefs, compression shorts, speedo, or jock)

Socks
If you have any questions regarding wrestling gear please ask Director Russ. A selection of singlets, headgear as well as SDWC club T shirts are available for purchase at practices. Visit our Links page to shop a wide variety of wrestling gear from various on-line wrestling merchants. Some wrestling gear may be available at local stores such as Big-5, Dick's Sporting Goods as well as independent sporting goods stores in Santee, Lemon Grove & El Cajon. Please call those stores to check for seasonal inventory.

Get in gear, get on the mat, and wrestle!